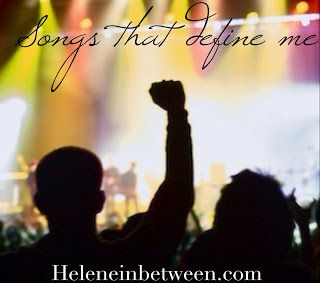 When I heard about Helene in Between's music themed link up I was instantly excited. Music is such an integral part of my life and I connect memories to the music in that section of my life story.
Madonna- Like A Prayer
I can't remember the exact moment that I first heard a Madonna song but I was instantly hooked. This song came out when I was in the second grade and I clearly remember asking my mom if she would buy me the cassette. From the ages of seven to eight I was often babysat by my cousin and her husband who was a straight up religious fanatic. This nut job would go on tirades about how Madonna was evil and that I was not allowed to watch that filth in his presence. I would sneak listening to the cassette whenever he was not around me. I got caught a few times and that resulted in verbally abusive comments from him. The songs ultimately became a way to escape the uncomfortable feeling I had when this person would yell at me.
Jeff Buckley- Last Goodbye
In my last relationship before meeting my husband I dated a guy who had recently gotten divorced. Of course looking back I can see the many red flags early on that I just glossed over because of the strong connection I felt with the guy. The weekend before we ended up breaking up was when I first noticed he was acting strange and distant. I was listening to my iPod on shuffle when this song came on and the lyrics spoke directly to my relationship. As I listened to these lyrics, Why can't we overcome this wall
Well, maybe it's just because i didn't know you at all, tears rushed my eyes as I came to the realization that this was the end of the road for us.
The Pretenders- I'll Stand By Yo

u
I was the kind of bride who was far more interested in picking the right songs for the ceremony than what kind of flowers to have. Funny enough my florist screwed up the color combos on the bouquets, but I digress. When I found an instrumental version of this song I knew that it would be my walk down the aisle song. The lyrics perfectly describe how I feel about my husband and marriage in general. Now that it was part of my wedding ceremony it will forever hold a special place in my heart.